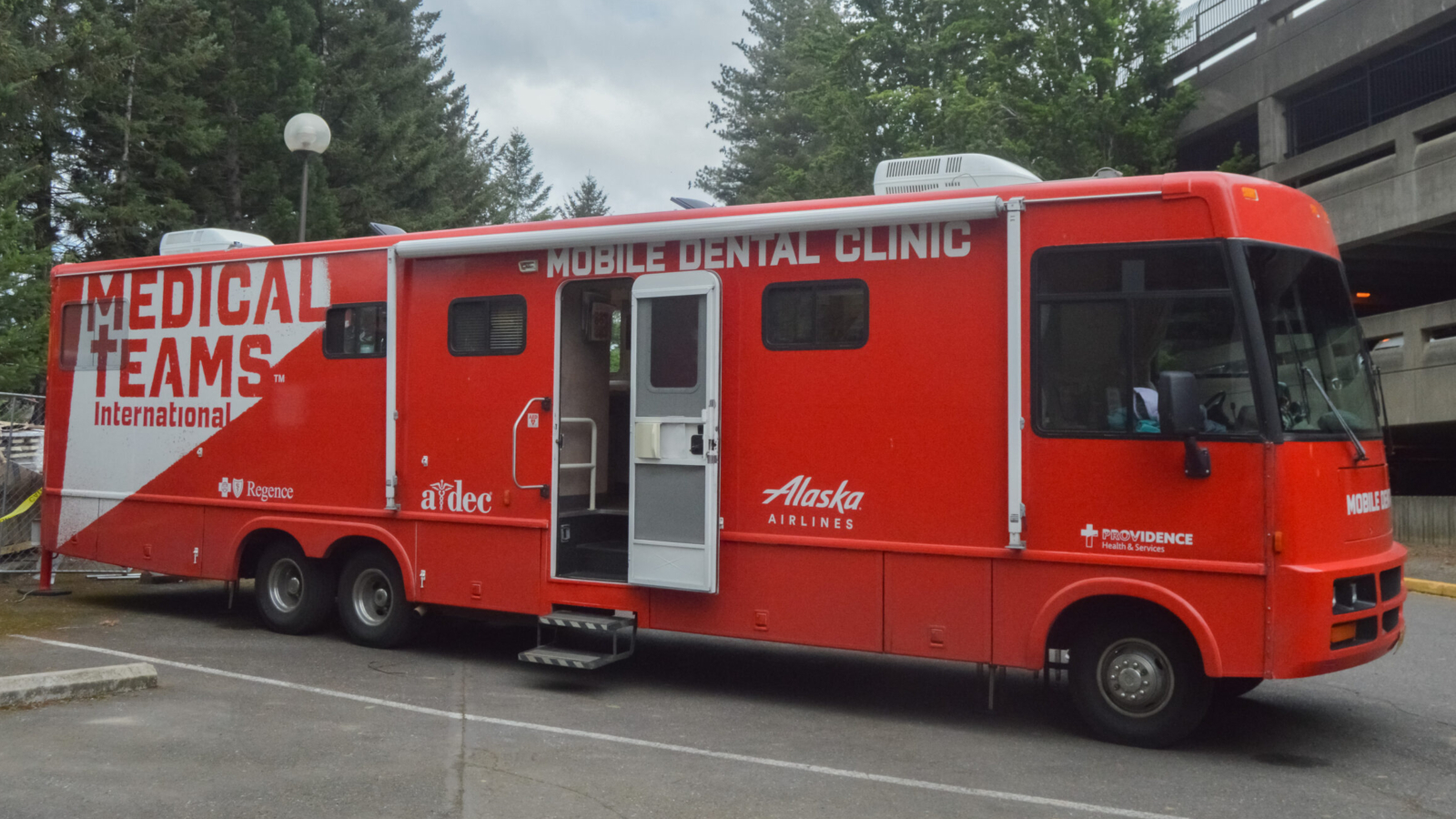 The medical system in America is under tremendous strain. Staffing shortages, individuals in desperate need of immediate care for complex health challenges, and reduced reimbursement rates all contribute to the overload and fatigue we hear about. As communities struggle to identify solutions, Medical Teams International is using what they've learned in decades of service to help triage community care.
Many associate Medical Teams International with service abroad. For more than 30 years, they have operated mobile health and dental clinics in the Pacific Northwest, currently serving 29 counties in Oregon and Washington with a 13-vehicle fleet. This mobile health delivery mechanism supports communities where medical facilities and staff are scarce and serves as a gap-filler in urban settings where demand on hospitals is overwhelming.
Due to the cost, community members who are un- or under-insured often forego necessary medical or dental care until the challenge becomes unbearable. A simple cavity becomes a painful dental emergency, or an unmanaged chronic health condition becomes a critical care incident. Often these individuals seek last-resort assistance in emergency rooms for lack of other options. Medical Teams International's mobile clinics aim to provide care before a health problem becomes an emergency while attempting to connect individuals to more routine, ongoing preventative care.
The Medical Teams mobile clinics offer a flexible setup able to support many medical exams, procedures, and interventions. The vehicles have a dedicated medical exam room on one end, and a dental chair with appropriate equipment on the other. Teams can pop up tents in front of the vehicles to process clients and paperwork, reserving the space inside for procedures. With all the work these mobile clinics perform and the many miles they travel across our state every year, it's incredible some of them have lasted nearly two decades.
It is now time for Medical Teams International to purchase another vehicle to serve Western Washington. This new, 39-foot customized mobile clinic vehicle will help Medical Teams provide 6,243 clinics and more than 83,570 patient encounters in Washington by the end of 2024. This new unit will continue to be a crucial piece of the healthcare landscape in our communities for years to come.
We at the Ben B. Cheney Foundation are proud to partner with Medical Teams International to help them bring a new mobile healthcare solution to the communities we serve. To learn more, visit medicalteams.org/how-we-heal/mobile-dental-program/.