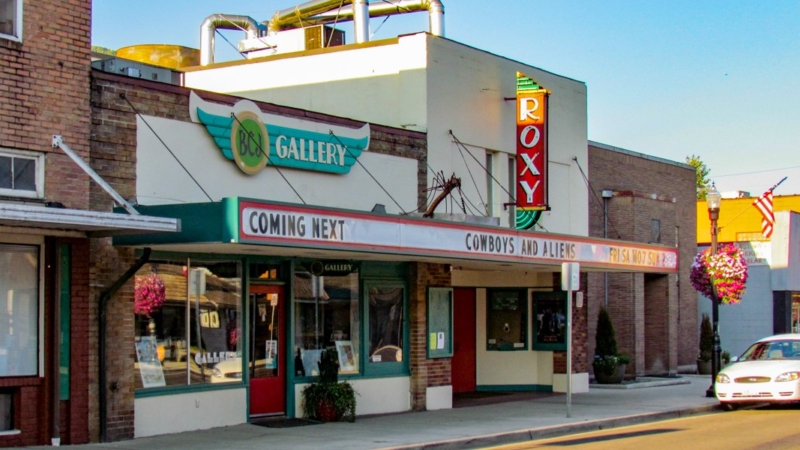 It seems like individuals have a renewed appreciation for the opportunities to gather in community spaces. Going to the movies. Hosting festivals and fairs. Attending theater, dance, or musical productions. Even local citizen forums on important civic topics have a new appeal – the chance to gather and attempt challenging topics in person, together. It is important to preserve the spaces in communities that allow for gatherings like this to happen.
The Fire Mountain Arts Council (FMAC) in Morton, Washington has a dedicated cohort of community members, most of them volunteers, committed to updating and preserving the historic Roxy Theater for such purposes. The 1937 theater sat dark for almost 25 years until the FMAC purchased it in 2003. Volunteer crews deep cleaned the venue, raised a bunch of money for repairs, and performed hundreds of hours of work to complete phase one of the renovation – $750,000 worth – in July 2006.
Through live theater performances, concerts, themed events, gallery exhibits of local artists, classes, crafting/creating spaces, and movies, the Roxy serves more than 10,000 people each year. One of the most active uses is for the OnStage Youth Theater education program. Through camps and annual programming, at least 70 children participate, drawing friends and family from across Western Washington to attend each production. Not only does the Roxy host ongoing community-building activities, but it also serves as an economic engine for Morton and the surrounding communities. The next closest cultural center is an hour away.
The combination of its high-volume use and its age has resulted in some dire needs for building updates to sustain services in Eastern Lewis County. Updated LED stage lighting and an energy-efficient HVAC system will support a good experience while saving money on the utility bill. Remodeling the entrance and reroofing will ensure the building and its patrons stay dry. And finally, adding a proper backstage area, weather-protected entrance for the performers, and ADA accessible features will allow anyone of any ability to participate in the events and productions.
We are proud to partner with the Fire Mountain Arts Council to support the renovations at the Roxy. Protecting the facility and allowing for community-wide participation in all sorts of events is important to rediscovering our communities through in-person gatherings and events.
To learn more, visit firemac.org.