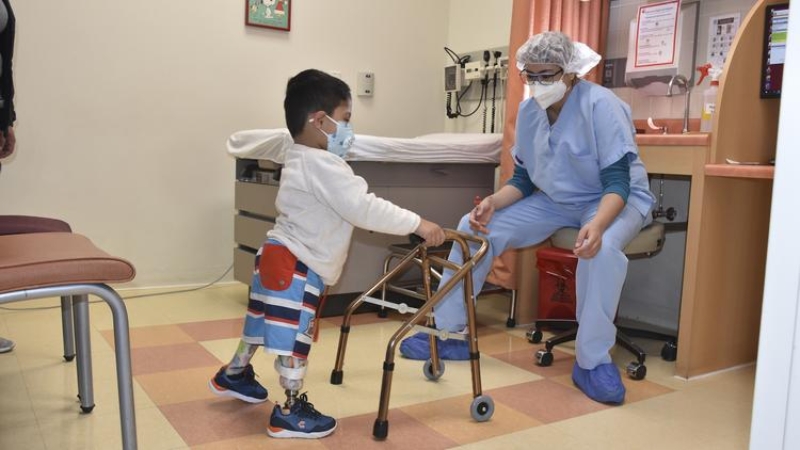 "Kids aren't just little adults." When they require medical care, it's important that they see providers who specialize in pediatric medicine. Growing bones require age-specific knowledge when it comes to treatment. Shriners Hospitals for Children – Portland is a leader in this arena. They have been providing noteworthy medical services since 1924, regardless of a family's ability to pay for this care.
The Portland hospital is home to the largest group of pediatric orthopedic specialists in the Pacific Northwest. They provide outreach services to a handful of communities outside Portland including Washington and Alaska. Another site for services is in southern Oregon.
Shriners has been operating a clinic in Medford for over thirty years. The outreach has been limited to three times a year for a few days at a time. Over the past several years, providers and families have been asking for a more permanent presence with weekly appointment times. This is an especially big need as there are no pediatric orthopedic providers in the Rogue Valley. It's a long five-hour drive to Portland for these age-specific orthopedic services.
This community dream is soon to be realized. Shriners Hospitals is in the process of establishing a clinic within a pediatric facility in Medford. Once open, they will begin operating one day a week and will continue to add days as they raise operational funds.
Start-up expenses include office equipment and electronic medical records software to protect patient information and interface with hospital records in Portland. The Cheney Foundation is pleased to assist with these needs. Though families will still travel to Portland for surgery, medical personnel in the clinic will be able to provide initial and/or follow-up appointments. They will also be able to provide several other general orthopedic services.
Facing injuries and medical issues can bring fear and anxiety to the strongest of us. A five-hour drive compounds those stresses. With their compassionate, family-centered care driving this expansion, it's reasonable to think that it won't be long before the clinic can operate with additional hours.
To learn more visit Shriners Hospitals – Portland