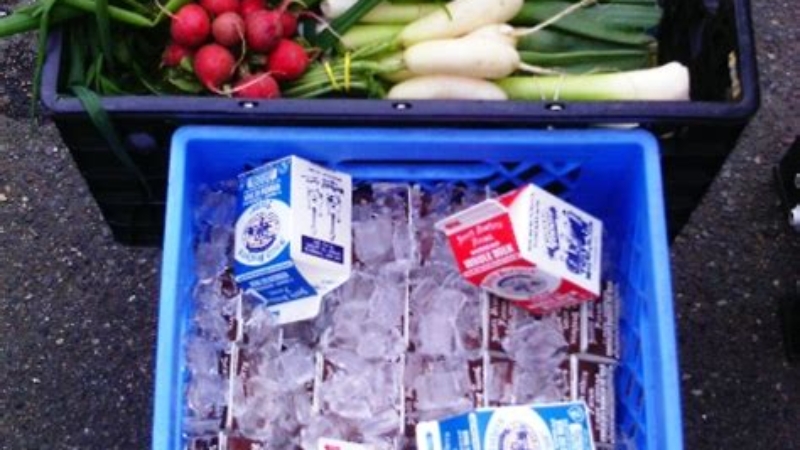 In 2020 it was common to see news stories, photos, or videos of all types of food distribution sites set up to serve neighbors and communities in need. While most people could accurately describe those scenes, few had the opportunity to peek behind the curtain to understand the logistics involved in moving all of that food through our communities. Here in Pierce County, it was quickly evident we needed more storage space, and especially cold storage, to keep large supplies of food safe for distribution.
Food Connection is one of the larger food providers in Pierce County. What started in 1982 as one location has grown to a multi-city, coordinated food distribution network that serves hundreds of thousands of meals each year. Food Connection distributes nearly $3,500,000 in fresh produce, pantry items, and other food annually throughout Pierce County, between their various programs; St. Leo Food Bank, Springbrook Mobile Food Bank, Backpack Program, Summer Meals, Break Bags, and After School Snacks.
When schools and restaurants closed in 2020 due to COVID-19, our entire food system was disrupted. The ways food banks typically procure food weren't available, and at the same time the numbers of clients visiting food banks skyrocketed. Then large shipments of government food arrived. Our food banks made bulk purchases of food, often competing with grocery chains. Farmers distributed large harvests to food banks when they could no longer sell them in their normal channels. Space to store all of these bulk food items, both long and short term, quickly became a challenge.
Every day, Food Connection uses two commercial refrigerator/freezer units to safely store items for delivery and distribution. One of their two units died in the summer of 2020 – at a time our community could least afford to be without any cold food storage capacity. This particular unit was already used when it was purchased and installed in 1994, which means the Food Connection team did a fantastic job maintaining this 30-year-old unit. But it was absolutely time for a new one, especially in this critical moment. With only one working unit, Food Connection had to turn away valuable items like fresh produce, milk, and cheese until the new unit was installed and operational.
The Ben B. Cheney Foundation is proud to help Food Connection purchase a brand-new refrigerator/freezer to make sure we have cold storage space in Pierce County for more decades to come. Learn more about Food Connection and their work at; foodconnection.org.