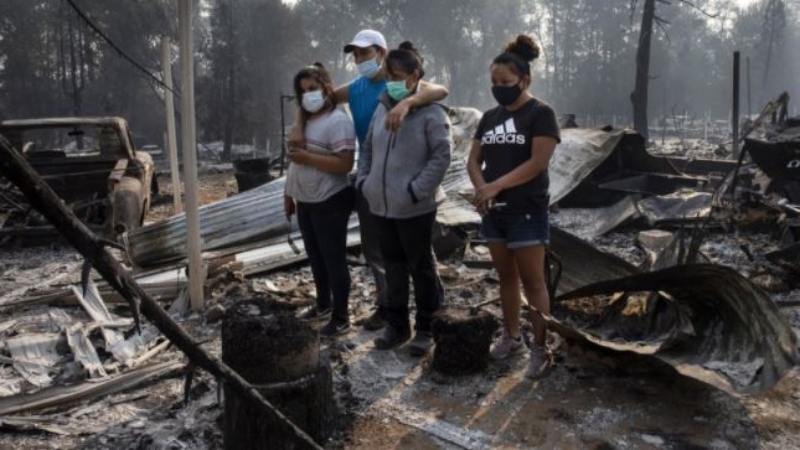 In a matter of hours on an early September evening, the towns of Talent and Phoenix Oregon were destroyed by a fast-moving fire. More than 3,000 structures burned, most of them homes. The fire moved so quickly there wasn't much time to think through evacuation. People left behind 1,628 cars that are now simply metal shells.
Families, friends, and neighbors scattered for shelter where they could. The Red Cross helped the community set up tents in the local expo hall and helped house people in the few nearby hotels that had room. The Southern Oregon Humane Society evacuated their staff and animals twice, then ended up being the only place able to receive and treat injured animals from the fire after the local veterinary clinic burned down.
The Talent and Phoenix fires were a tragic event on their own. Coupled with the Covid-19 pandemic, our community partners in the Jackson County area faced some previously unthinkable challenges. In a pandemic, housing and feeding people in congregate settings isn't ideal. Locating people who had been isolated already due to the pandemic became a panicked situation. And coordinating a sudden flood of resources over Zoom with little infrastructure? It was a hectic few weeks of sorting everything out.
An already Covid-19 strained community pulled together. The school district was able to locate families and help distribute money and resources quickly. FEMA staff started to arrive and set up systems and structures to begin the long-haul of meeting immediate needs and rebuilding a community. Companies began to donate food, clothes, and shoes. Nonprofit agencies began to understand needs, and triage resources accordingly. Others started to look to the future, and begin the conversations around rebuilding a community in an equitable fashion, with healthy and affordable housing available for all.
The conversations and the work have been emotional and difficult. Yet there are hopeful moments as cross-sector teams think ahead, design a future of housing-first communities, and center equity at every turn.
The Cheney Foundation is proud to support our partners in Jackson County, Oregon. We are grateful to be invited around these tables to help. To learn more about the recovery efforts, visit the United Way of Jackson County or Rogue Valley Rebuilds.