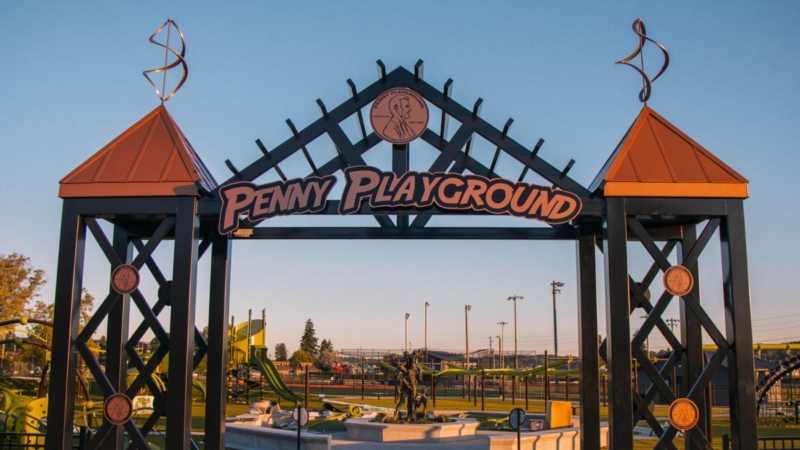 They call it Penny Playground for exactly the reason you might expect. In 1993, children in the Chehalis community collected spare change to help renovate and update the local community park. Their efforts resulted in $80,000 cash, and lots of donated material, time, and talent. Together, the Chehalis community created a legacy that stood more than two decades. Penny Playground became a fixture of pride within the larger Recreation Park.
Fast forward to 2019, and Penny Playground is ready for another update. Once again, the community rallied together, under the leadership of the Chehalis Foundation, to provide accessible play space for children of all abilities, and ball fields that will better withstand the rainy Pacific NW weather. Without proper drainage, the park became unusable many months of the year, and an unreliable place to plan a tournament.
Today, though we have yet to gather in a crowd to celebrate, the new Penny Playground stands ready to receive its community. The 20-year old structures received safety improvements. When we can yell "play ball!" again, the more resilient fields stand ready to host baseball and softball teams, their fans, and their families from all around the region. And Penny Playground is currently the only ADA accessible outdoor play space of this size in a 70-mile radius.
Penny Playground is built for the community, by the community. The play space will host individuals from its hometown of Chehalis, as well as those who travel from nearby locations to take advantage of everything the entire recreation facility has to offer.
The Cheney Foundation has been a proud partner in this Chehalis community effort since 2006. We are big believers in community gathering spaces and play, especially when the designs and features include individuals of all abilities. Interested in visiting? We hope you will. Learn more about Penny Playground.