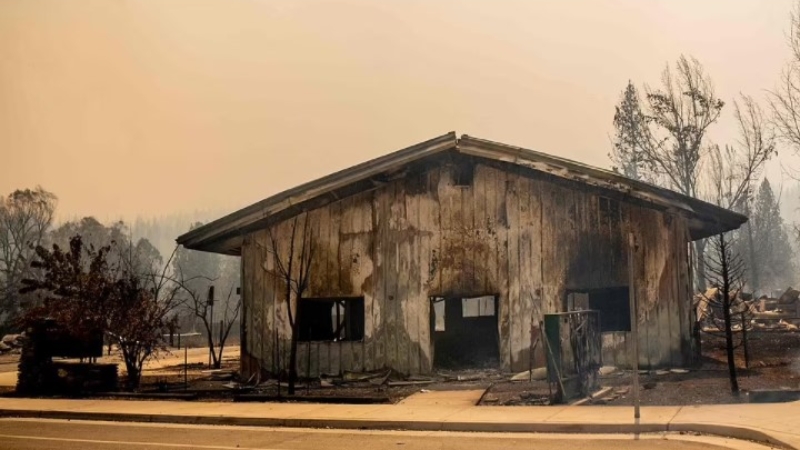 On August 5, 2021, the town of Greenville, CA was decimated by the Dixie Fire. Still raging at the time of this writing, the Dixie Fire now has the unfortunate distinction of being California's largest wildfire in state history.
The Cheney Lumber Company, Ben B. Cheney Foundation, and Cheney family have had a long history with Greenville, located in Northern California. Over the years, Ben Cheney developed his railroad tie and stud production at a number of mills in Washington, Oregon and California. At the time of the sale of the Cheney mill interests in 1974, efficient, modern mills were operating in Tacoma, Washington; Central Point, Oregon; and Pondosa and Greenville, California.
The Greenville mill was one of the Cheney Lumber Company's most productive mills. Located in the mountains surrounded by forests, it was a tremendous area for logging. When the Greenville mill sold, proceeds helped fund the Cheney Foundation.
Between 1991 and 2012, the Cheney Foundation awarded eight grants to projects in Greenville; including our largest grant in California – $100,000 to assist with constructing a community center for the residents of this rural town. In all, the Cheney Foundation gave a total of three grants to the project. Along with everything else, the Dixie Fire destroyed the community center, pictured above.
History has always been very important to the Cheney Foundation, along with the relationships forged with our grantees and communities. To this day, the Cheney Foundation gives back to the communities where Cheney mills operated. The Cheney Foundation owes a debt of gratitude for this Greenville mill operation and the income it generated for the Cheney Lumber Company and in turn the Cheney Foundation. The Cheney family and Foundation are deeply saddened at the devastation and our hearts go out to all those who have lost homes, livelihood, and precious memorabilia.
The Cheney Foundation recently awarded $250,000 to the United Way of Northern California's wildfire and disaster relief fund to support those impacted by the Dixie Fire. The fire has already destroyed Greenville, and at this moment, is close to another Cheney mill community in Westwood.
The path to containment, immediate relief, recovery, and restoration will take years to complete. We are grateful for the staff at the United Way of Northern California, and all of the other organizations working to support those affected. To help, visit norcalunitedway.org/wildfire-recovery-disaster.