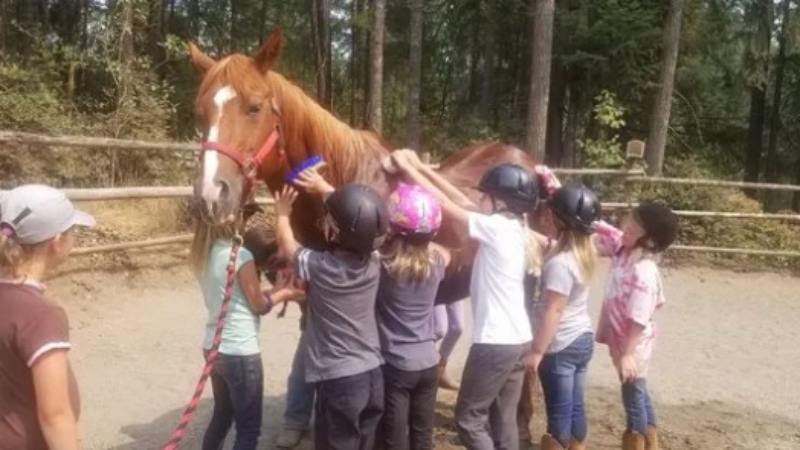 The Whole Horse Place (TWHP) was started as a for-profit business in 2011 to provide a way to feed two old horses. Kids came from around the area to learn about the horses and ride for free. In the decade that followed, TWHP was rescuing more older horses that had nowhere else to go. The founders realized they needed to find a sustainable way to support the horses as they aged. In 2021, they formed a nonprofit.
The mission of The Whole Horse Place is two-pronged: rescuing older horses and pairing them with people of all ages to assist in their care for the betterment of each. TWHP partners senior horses with children and adults of all abilities, including foster children, from the broader community. There are many reasons why an old horse is no longer wanted by its owner. By providing a place where they can live out their lives, the Horse Place has found a way to rescue senior horses from euthanasia and give them new purpose in teaching their handlers qualities such as responsibility, confidence, self-respect, resiliency, and emotional honesty. 
Participants work hard in assisting with the needs of the horses. This can include cleaning stalls, hauling and manually turning manure in composting piles, emptying, scrubbing and filling water troughs, moving bales of hay to the barn, grooming the horses, and cleaning their saddles. They may also tend to injuries and learn to give medicines and immunizations. The Whole Horse Place is uniquely much more than a riding facility.
In learning what a horse requires and building a relationship with their equine friend, kids learn accountability. They learn to see a bigger picture beyond themselves, that there are outcomes from today's decisions and there are impacts for good or bad that come from all they do or think. Youth are given the space to fail and recover in a supportive environment. They learn to problem solve and not quit. In today's contentious, and often frightening world, these are life-long skills that transfer to every arena of life.
One of the larger expenses of the Horse Place is the cost of feed. It's close to 20% of their total budget. The Horse Place approached the Cheney Foundation with their Grain Storage Project. The goal is to purchase a shipping container that will allow them to buy grain in bulk, decrease the feed expense and safeguard the grain from the elements. Earned income brings in close to 75% of a very modest operating budget. Fundraising makes up the rest.  A capital project, even a small one, strains that fundraising. The Foundation is pleased to help The Whole Horse Place acquire this shipping container.
To learn more, visit thewholehorseplace.com