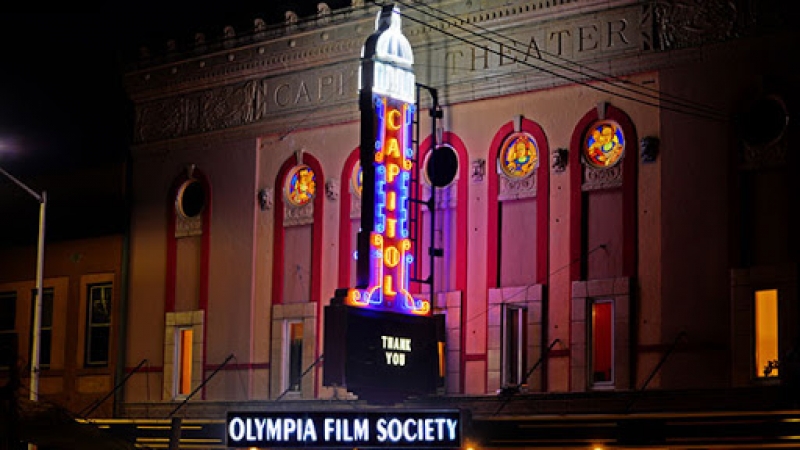 When audiences gather again in the Capitol Theater, they will be welcomed by a beautifully updated and restored facility. The staff and board of the Olympia Film Society (OFS), which owns the Capitol Theater, have worked tirelessly since the 2010 purchase of the building to update and restore it. The final touch will be completed this summer, when the old and leaky exterior awning will be replaced with a sturdy replica of the historic awning. Designed by a local architectural firm, the awning replacement will create a new façade and demonstrate that the arts are alive and well after all this time away.
The 762-seat Capitol Theater in Olympia has operated continuously since 1924. The theater was constructed to be a monument to amusement lovers. As a luxurious picture palace designed for orchestras to accompany silent films, the theater opened its doors to an audience of more than 1,000 people for an evening of festive entertainment. Through the years, the theater remained primarily a home for film, yet hosted vaudeville and musical events, including a performance by Judy Garland.
The theater continues to be a home to film, music and art that engages the community, encourages volunteerism, and ensures preservation of the building itself. More than 100 volunteers help patrons experience ballet and symphony from The Washington Center for the Performing Arts, live plays from The State Theater, and live theater performance for youth and young adults presented by Olympia Family Theater.
Olympia Film Society was awarded a Washington Heritage Capital Projects Fund grant to restore the exterior of the theater in 2017. Completed projects include upgrades to electrical mains, a new roof, period-correct handcrafted windows, and a balcony fire escape. The Ben B. Cheney Foundation is proud to help the Olympia Film Society with the final piece of work – restoring the awning. We look forward to the day patrons can again walk through the doors and experience live performance in a historic building with such legacy.
To learn more about the Capitol Theater and the Olympia Film Society, visit olympiafilmsociety.org/about/