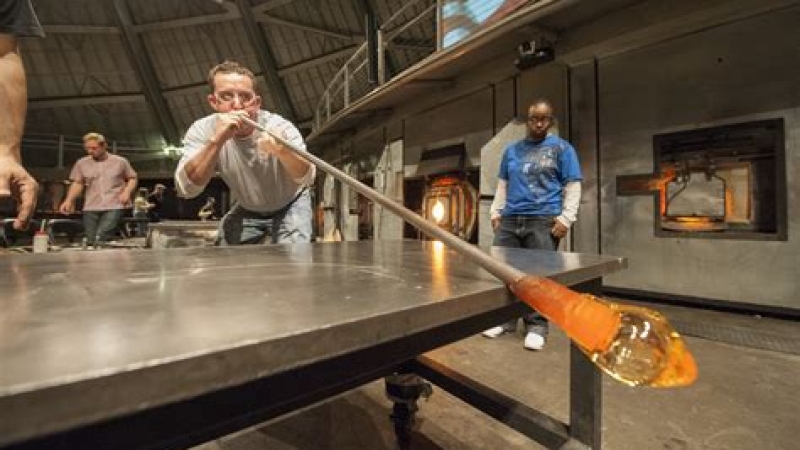 If you haven't spent time in the Museum of Glass' hot shop, you really must visit. In this space, a perfect hideaway on a chilly Pacific Northwest Day, guests are treated to a live performance of art and beauty rarely accessible to the average person. Any day the museum is open, it is possible to encounter artists in the hot shop, skillfully molding glass in to works of art using furnaces set to 2,100 degrees. The experience is warm, thrilling, tense, and beautiful, all at the same time.
Opened in 2002, the Museum of Glass was a catalyst for development on the Thea Foss Waterway. The iconic cone of the hot shop is visible from all parts of Tacoma, and serves as inspiration for photographers, sketch artists, and all types of creative talent. The museum is listed as a top 10 tourist attraction in Washington, and hosts more than 100,000 visitors each year.
The hot shop is one of the most active areas of the museum. The venue hosts world renown visiting artists, artists in residence, programs for youth artists, and programs for military veteran artists. Without either of the two furnaces, there is no hot shop. Artists use the furnaces to heat and melt the glass, shaping it in to anything imaginable – from vases and vessels to sculptures and sea animals. The furnaces are the epicenter of the show, and a source of earned income. Artists sell pieces they create in the museum gift shop.
When the museum asked for help replacing their oldest furnace, it made perfect sense to us. Museums have been shuttered much of the last year due to the COVID-19 response, and if we could help them reopen with a bang, showing off a new, reliable, working hot shop furnace, we were happy to help. Because the new furnace will help save energy, Puget Sound Energy partnered with a grant for the furnace as well.
The Cheney Foundation is proud to support our creative culture here in Tacoma. We encourage you to plan a trip and spend an afternoon in the hot shop. You'll be amazed.
Learn more about the Museum of Glass and hot shop at museumofglass.org.