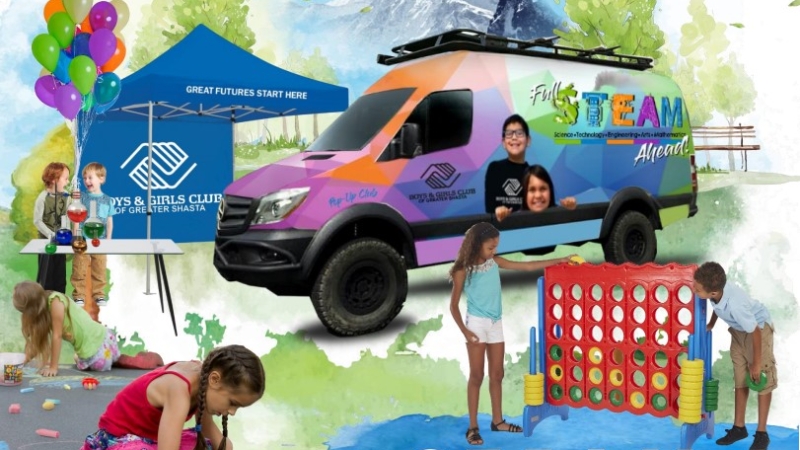 How can we best support young people in a time when separation may be necessary to keep everyone healthy? That's a challenging consideration, especially for rural communities. Luckily, an opportunity the Boys & Girls Clubs of Greater Shasta was already considering serves these purposes in adventurous ways.
The Clubs of Greater Shasta supports more than 660 youth across an expansive geographic region of Northern California. A traditional Clubs model would have them build or lease space in a building to provide programming and meals. However, with a geographic area this large, there was never one physical location that was easily accessible to a significant portion of the youth and families they hoped to serve. And with attendance restrictions for indoor gatherings currently in place due to Covid, serving groups of youth inside a building isn't possible at large scale.
Enter the pop-up Club model, or Beyond the Walls. In this model, the Club comes to the kids. By retrofitting a Mercedes Sprinter van, the Clubs can now bring the programs to the youth. With a van packed full of materials, supplies, tents, chairs and tables, the Club can move from community to community offering consistent programming on set days in parks and school yards. This not only allows for engagement of more families and youth than could attend a hard-to-access physical Club, in Covid times, being outdoors for activities and programming allows for larger gatherings of participants.
Additionally, Clubs staff can use the vans to take youth on adventures in the range of outdoor spaces available. From skiing to mountain biking, every season in Northern California has opportunity for play. Now the Clubs can help young people access those sports and stay fit and healthy with new skills that can last a lifetime. The vans should be operational in the spring of 2023, just in time for mountain biking season.
Finally, for a relatively new Boys & Girls Clubs organization, the operating costs of a mobile Club are more efficient than operating a physical Club in either an owned or leased building space. A strong financial start helps ensure a solid foundation for growth as the Clubs establish themselves in the Northern California community.
The Cheney Foundation is proud to help support this win-win-win for the Shasta community. Particularly in these times of distance and isolation, the ability for youth and families to access programming, activities, and services is critical. We are excited to help the Clubs get everyone outside to play and learn.
Learn more about the Clubs of Shasta: bgcgreatershasta.org