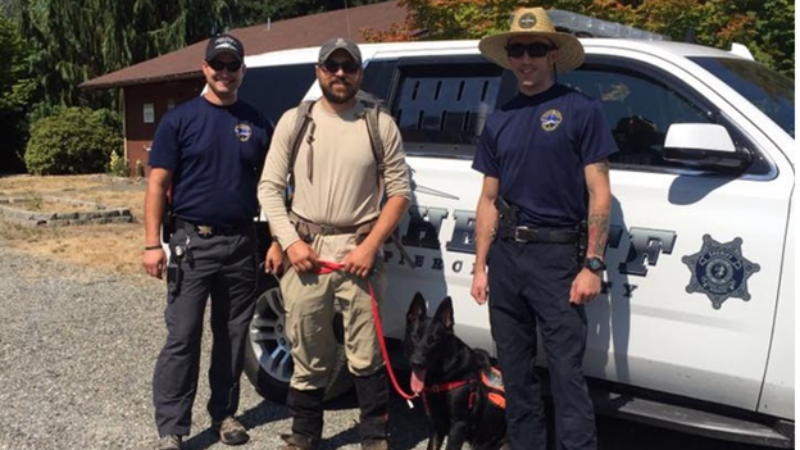 Created in 1969, German Shepherd Search Dogs (GSSD) is the oldest existing K9 Search and Rescue organization in the United States. It was an outgrowth of the German Shepherd Dog Club of Washington. Earlier on, club members were tasked with investigating ways to use dogs to search for missing persons beyond the established role of tracking and trailing. The experience of Hank Wilcox, founding GSSD member, in teaching dogs to find the airborne scent of jet fuel during WWII led him to theorize that dogs could be trained to find the scent of humans lost in the woods. Wilcox, along with Bill Syrotuck worked together to successfully train the first air scent dogs.
German Shepherd Search Dogs is a free public service working in cooperation with local law enforcement organizations and other agencies. Services are provided 24/7 to the community, primarily in Western Washington. From its earliest beginnings, GSSD has provided trained K9 to find lost and missing persons. They currently have 15 dog teams and deploy between 40 and 60 times per year in a variety of situations. Searches can range from looking for missing people on Mt. Rainier to searching for an elderly, dementia walk-away. Sadly, search operations can also be to locate those who have perished.
GSSD provides continuous training and education to ensure a competent, capable, and professional response in times of need. The organization operates entirely on a volunteer basis. Dogs belong personally to team members who pay all their own expenses in caring and training their dogs as well as transportation costs to search sites. In 2021, GSSD travelled 25,000 miles collectively.
Once deployed to a search, the objective is to locate the lost person in an assigned area or to clear that area so that deputies can re- focus search efforts to other potential sites. Handheld and vehicle radios are extremely important to the operations. When GSSD approached the Cheney Foundation, their radios were old, difficult to repair and increasingly unreliable. A radio is not just a good tool but a requirement to be in the field. A failed radio automatically triggers that team to leave the search.
New radios will provide many additional benefits beyond reliability. New digital technology will extend the battery life and add communication enhancements. The new radios will also weigh far less than the old radios which required the burden of carrying an extra and heavy battery. Time is of the essence during a search operation.
The Cheney Foundation is pleased to help GSSD replace their aging radios and assist in their effectiveness during such critical times.
To learn more, visit German Shepherd Search Dogs