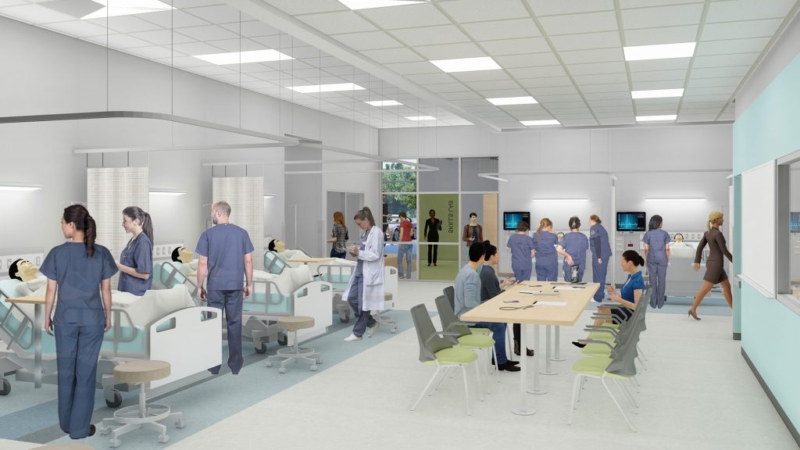 Among the many things 2020 has reminded us, it is crucial for our communities to have a full contingent of well-trained medical staff. We also know it has been difficult for our communities to meet those staffing needs. With population growth, an aging population, and other factors, projections tell us we will see a shortage of 7,000 nurses in the state of Washington by 2025. Pacific Lutheran University (PLU) is working to change that reality with its new Clinical Learning and Simulation Center.
PLU's School of Nursing offers a traditional Bachelor of Science in Nursing (BSN), a Licensed Practical Nursing (LPN) to BSN for those who have completed their LPN certification, a Master of Science of Nursing (MSN), and a Doctor of Nursing Practice (DNP). Graduate level students can pursue Clinical Nurse Leader, Family Nurse Practitioner, and Psych-Mental Health Nurse Practitioner specialties. If someone is looking to explore nursing options, PLU is a wonderful place to start. So how can they train more students to help meet demand?
Recognizing that classroom space and clinical time were some of the constraints to program growth, PLU discovered a unique opportunity already on campus. An underutilized bookstore building would be a perfect home for a new nursing facility. With help from the community, the new Clinical Learning and Simulation Center was born. The Center provides;
A clinical learning environment, double the size of the existing space.
A 16-bed inpatient skills lab with adjacent teaching space.
A three-bed simulation lab for advanced practice care.
Larger capacity classrooms, camera-assisted debrief rooms, and private care nursing space.
Thanks to PLU's efforts and creativity, more students in the region can learn through practice, train in an environment with equipment and furnishings found in today's modern high-tech healthcare settings, and develop critical competency to provide high-level care in our communities. Learning through textbooks, lectures and study groups is important, but the opportunity to practice on a life-like, medical simulation mannequin that can mimic real medical needs? To us, that's a real opportunity for growth.
The Ben B. Cheney Foundation is proud to support the new PLU School of Nursing Clinical Learning and Simulation Center in Tacoma. Watch the virtual tour, and see how incredible it is!