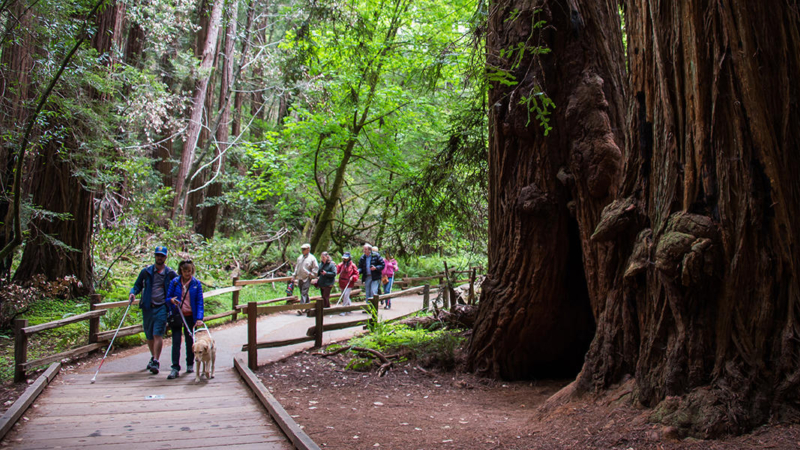 Access to the great outdoors. For individuals able to walk longer distances, paddle a kayak, or easily ride a bike, they likely don't give access much thought. But for seniors with limited strength, individuals with mobility challenges or adaptive supports, or even young people who aren't old enough to drive themselves, access to outdoor spaces can be a barrier.
The Redwood Parks Conservancy in Crescent City, California, seeks to change that. The Conservancy partners with the National Park Service, California State Parks, the Bureau of Land Management, the U.S. Forest Service, and Tribal partners to help foster understanding, enjoyment, and stewardship of the public lands along California's northern coast. This region of California is home to incredible natural diversity, from the world's tallest redwood trees to pristine ocean beaches.
The Conservancy worked with its stewardship partners to create the GOAL program, focused on access for all. The four components of the program include; helping parents become outdoor educators, bringing the outdoors in, embedding environmental-based learning and outdoor job opportunities in career technical education, and experiencing nature through history. Additional programming includes beach cleanups, art in nature, and camping 101 classes. Through the intentional mix of these programs, key stakeholder groups will be able to access the outdoors and gain the ability and/or confidence they need to continue accessing the opportunities outside of the Conservancy's leadership.
Getting individuals to these activities requires transportation, and that's where the Foundation can help. The Conservancy's request for a 12-person, ADA compliant van was met with great enthusiasm. Allowing access for individuals in the region who have no other means to see the beauty of these natural spaces is vital to community-building and individual wellbeing.
The Ben B. Cheney Foundation is proud to partner with the Redwood Parks Conservancy to help everyone access the outdoors. To learn more, visit redwoodparksconservancy.org.