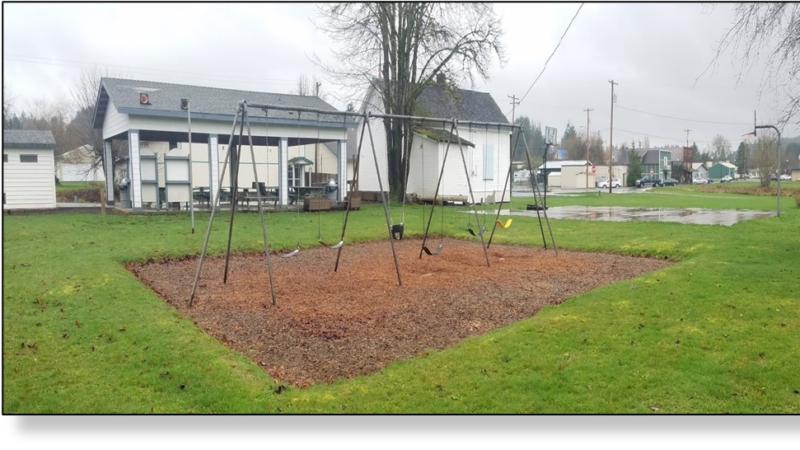 Can you imagine having small children and having to travel over nine miles to find a suitable playground? This is the case for the small town of Vader, Washington, which has just one small neighborhood playground for its families and residents. The area in this photo is the only public playground and gathering space within walking distance of their homes.
In 2008, the Vader public school and district was closed and consolidated with another city ten miles away. The school and playground were dismantled, removing the primary gathering place in the way of school events and playground opportunities. This modest community exists with five paid staff and a volunteer mayor, city council and parks board. But this dedicated team, along with other residents, has been hard at work to improve their only playground.
With initial grant funding from a Washington State Recreation and Conservation Office grant in 2021, the City of Vader was within reach of creating a wonderful park experience for its residents. The project includes elements to appeal to all ages and abilities. The old swing set will be replaced with a wonderful and accessible play area and playground structure. A walking path around the grounds, paved parking and picnic tables with benches will round out the space. With the town's small museum also located on the property in the 1906 historic jail, the site will be a great community asset.
By the time the Park Board approached the Cheney Foundation for help with the Werden Park project most of the money had been raised. The Cheney Foundation was pleased to grant the last monies needed to ensure the project is completed quickly.
Learn more about the City of Vader.