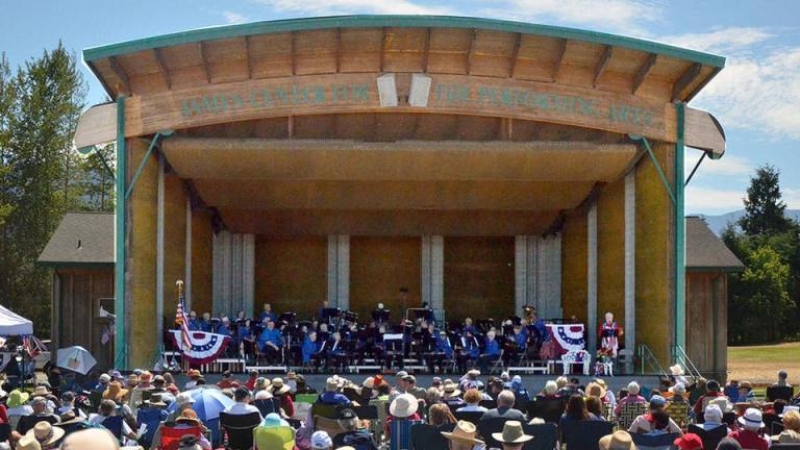 Live music and the opportunity to be in the community together are two things we hear often when friends and family lament the losses of the last two years. So when the Sequim City Band approached us with a way to expand their facility, and thus their ability to keep music and community gatherings going, we were excited to help.
The Sequim City Band is a community concert band located in Sequim, WA. Chuck Swisher, a former music educator in the area, started the band in 1992 as there were no concert bands in the region for music lovers to join and play. The 70+ members in the band today far exceed the original 20, confirming Mr. Swisher's notion that Sequim was full of musical talent just waiting to for someone to bring them together.
The Band travels the region for special events and concerts, particularly in the warmer months, but they call James Center their home. Members of the Band led a campaign in 2005 to build James Center bandshell and rehearsal facility, Swisher Hall. The Band performs five outdoor concerts in the bandshell each year, including the annual 4th of July concert. These concerts are outdoors in a beautiful setting, bringing community together to enjoy music together, free of charge.
The growth and popularity of the Band meant they needed to expand their rehearsal facility, which is also used by other musical groups ranging in age and genre. The current facility, built in 2005, can accommodate 35 people at a time. Who knew the Band's popularity would require a facility for 70+ members one day! In addition, the Band has acquired numerous instruments through the years, including several large percussion instruments, that need to be stored in a safe space.
This project will help the Sequim City Band expand Swisher Hall to create a safe, well-lit, and acoustically sound facility large enough to accommodate the growing needs of each performing arts organization that uses the space. From the Sequim City Band to the Sequim Strings Kids Music Education Program, each organization will have a place to play, develop, learn, and grow, ensuring the region will have opportunities for live music and shared experiences for years to come.
The Cheney Foundation is proud to support the Sequim City Band and the joy their music brings to members and audiences alike. To learn more about the Band and the Swisher Hall expansion, visit sequimcityband.org.