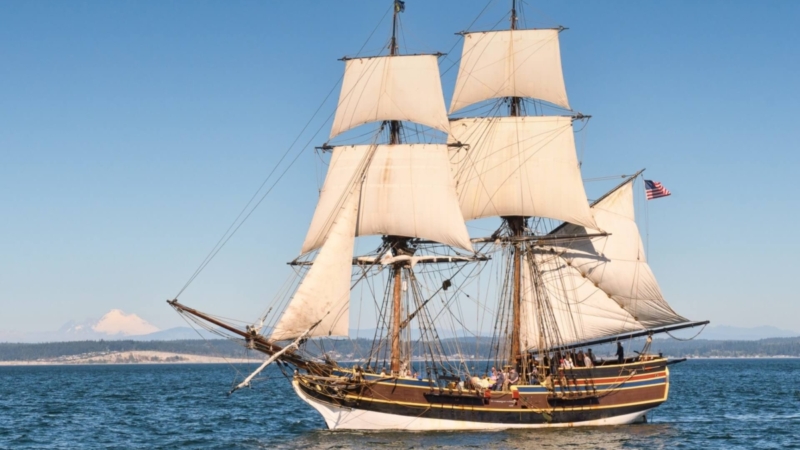 As we move further into a technology-driven universe, it becomes increasingly difficult to remember how the world used to be. Yet the need to remember and appreciate where we've been and how far we've come crosses many aspects of our daily lives. We can't appreciate where we are without looking back at where we've been.
In 1788, the Lady Washington became the first American vessel to arrive on the West coast of North America after an unprecedented trading voyage around Cape Horn. The Lady Washington was the first American ship to visit Honolulu, Hong Kong, and Japan. She opened the black pearl and sandalwood trade between Hawaii and Asia when King Kamehameha became partner in the ship. In today's world when we can fly across the country in an afternoon or sail millions of goods at a time in cargo containers, it is challenging to imagine the difficulty and ingenuity represented in these stories.
In 1989, a full-scale version of the Lady Washington launched in the Puget Sound. She was thoroughly researched by historians and traditionally constructed by local, skilled shipwrights. She was launched as part of the Washington State Centennial celebration and supported by countless contributions from individuals and organizations who understood the importance of access to living history.
Today the Lady Washington is busy hosting nearly 70,000 individuals each year with the goal of reminding us where we've been and how far we've come. Students get the benefit of orchestrated field trips aboard Lady Washington with corresponding curriculum performed in preparation. She also participates in maritime festivals around the Puget Sound, with a history of going as far South as California. Lady Washington can also be rented out for private events and sailings. She is part of a greater network of historical vessels across the country that work to ignite wonder and discovery while keeping history alive.
Of course, with a historically accurate wooden replica tall ship comes significant maintenance needs. The Lady Washington is due for her half-life retrofit which will eventually require replacement of a significant amount of the wood making up her hull and masts. This project is a serious endeavor that will span two years with limited sailings in between, but it is vital to the diversity of our educational and learning landscape that we maintain her and all the opportunities she presents. Without this retrofit, Lady Washington will not be able to take passengers to sea much longer, and her days of dockside tours would be numbered.
The Ben B. Cheney Foundation is proud to partner with the Grays Harbor Historical Seaport in support of the Lady Washington retrofit to help maintain this living history learning experience. To learn more, visit historicalseaport.org.