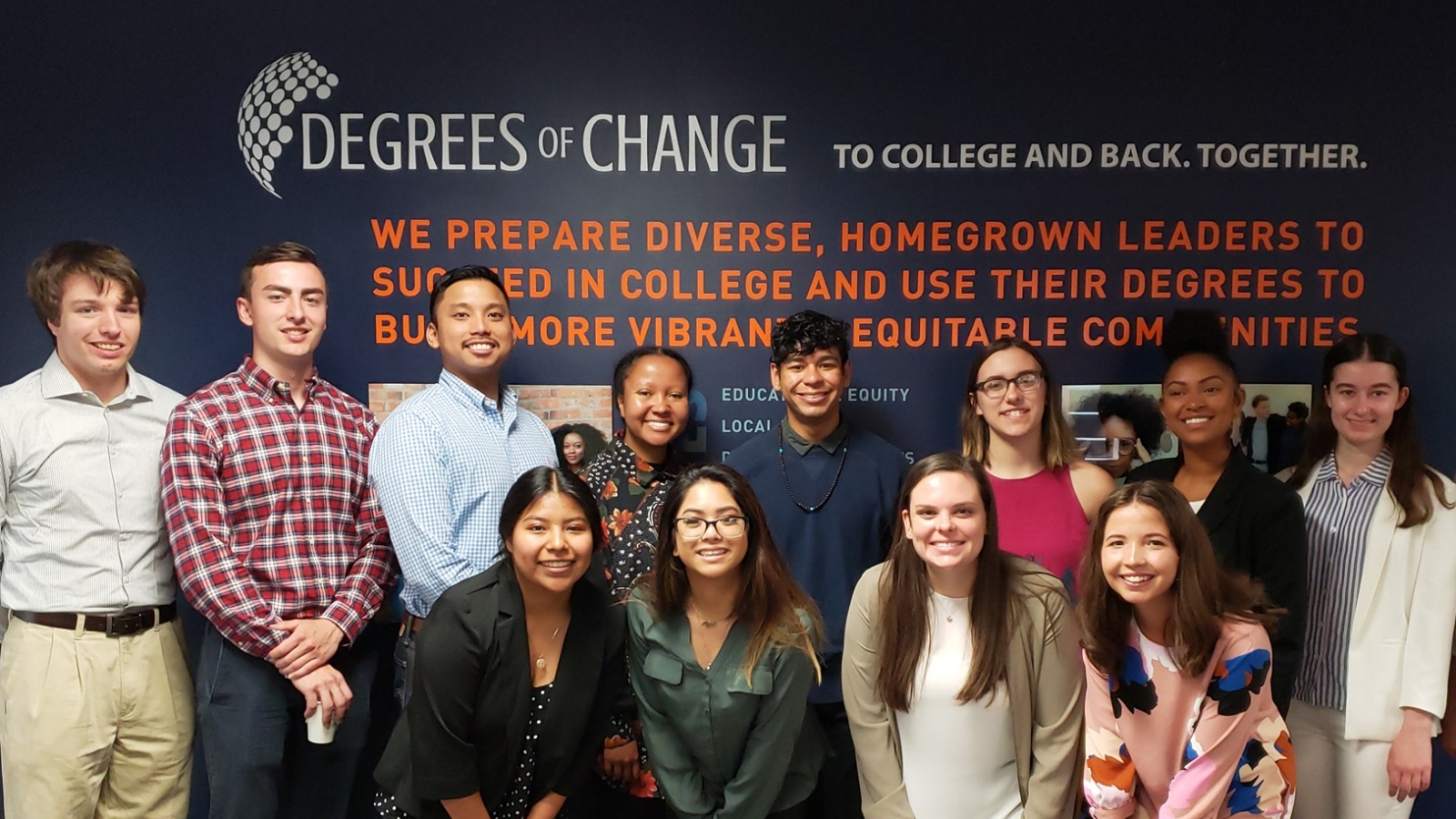 Degrees of Change (DoC) views education and career outcomes as the means to build more vibrant and equitable communities. They operate under the core value that college-educated, diverse local students can be developed into community leaders. By leveraging rigorous evaluation and cutting-edge technology, DoC has developed programs and tools that are uniquely tailored to the under-served communities with whom they work. In collaboration with partners, their programs identify and support the next generation of community leaders on the path to meaningful careers and life-long impact.
There is significant need for diverse, talented young people to have increased access to pathways for leadership that provide social mobility and incomes that allow them to thrive. DoC operates four innovation programs to meet this need. Knowing that a college degree is not enough to bring about the desired impact and that the public and private sectors often don't reflect the diverse make-up of our communities, the SEED Internship program was developed.
Professional internships often lead to employment, and they are used by employers to identify potential management and leadership talent. However, many times the internships are unpaid and based on professional relationships making them particularly difficult for under-represented college student to secure. Enter in Degrees of Change. They identify outstanding college students and recent grads and match them with top local employers for a 10-week, paid summer internship. Paired with a robust curriculum of professional development, the program provides a tailored path to professional success for homegrown talent seeking to honor their roots while building their careers.
The Cheney Foundation has always invested heavily into higher education. Grants typically have provided scholarships or supported capital improvements on a select number of college campuses. Wanting those college grads to come back to Tacoma and benefit our community has also been important to our directors. When DoC asked the Cheney Foundation for a grant to pay for two interns to be placed at local nonprofits, the request had great appeal. Not only would the internships benefit two aspiring students, but they would also benefit two nonprofits that couldn't possibly pay for the internships in this COVID-era environment.
For more information, please visit Degrees of Change