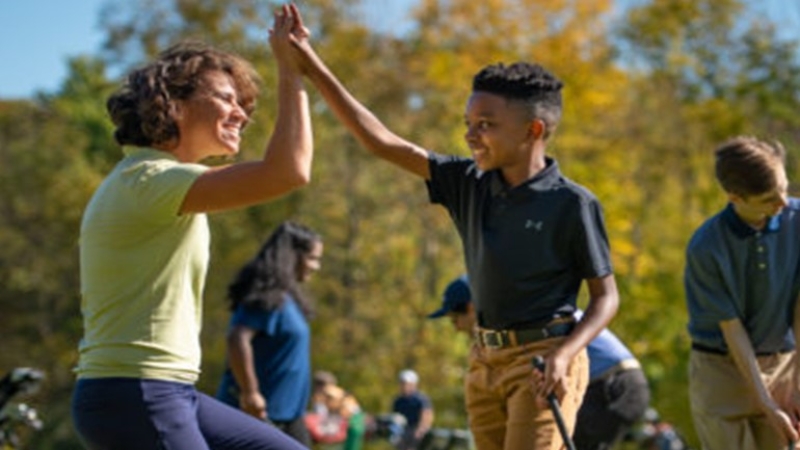 For over 25 years, First Tee has used golf to teach lessons about life. They have grown to 150 chapters across the United States. First Tee seamlessly integrates the game of golf with life skills curriculum, creating learning experiences that build inner strength, self-confidence, and resilience – qualities that kids can carry to everything they do. Annually, over 3.7 million youth are served through the various chapters.
First Tee – South Puget Sound began in the summer of 2011 and served 94 youth in its first year at Meadow Park and Chambers Bay Golf Courses. This chapter now impacts more than 63,000 youth in four counties on the golf course, in the classroom, and in our community.
They work strategically and intentionally with community partners to serve underprivileged and at-risk youth who generally would not get the chance to learn the game of golf. They focus on helping kids develop character and inner strength. "Character is what you bring to everything you do but you aren't born with it. Character is learned, cultivated and shaped by our experiences." Throughout their programs, the game of golf is used to empower this growth while enabling kids to learn and play the game.
First Tee coaches deliver programming that weaves golf and character-building activities into each lesson, helping children become even more equipped to make good choices on and off the golf course. They partner with other youth development organization to reach under-served youth. Some of the local partners include the Boys & Girls Clubs of South Puget Sound, Kings in Training, Joint-Base Lewis McChord and the Rescue Mission. More than 60% of their participants receive full or partial scholarships. No child is turned away from their programs due to financial hardship.
Maintaining, storing, and protecting equipment has become an on-going challenge. First Tee – South Puget Sound approached the Cheney Foundation with a request to purchase four storage sheds for several programming sites. Though a small and modest project, its importance cannot be minimized. The Foundation was happy to partner with First Tee. Lifting youth, helping them gain a better understanding of themselves, and empowering them towards successful futures is a high value of the Foundation. First Tee is doing inspiring work in this arena.
To learn more visit firstteesouthpugetsound.org