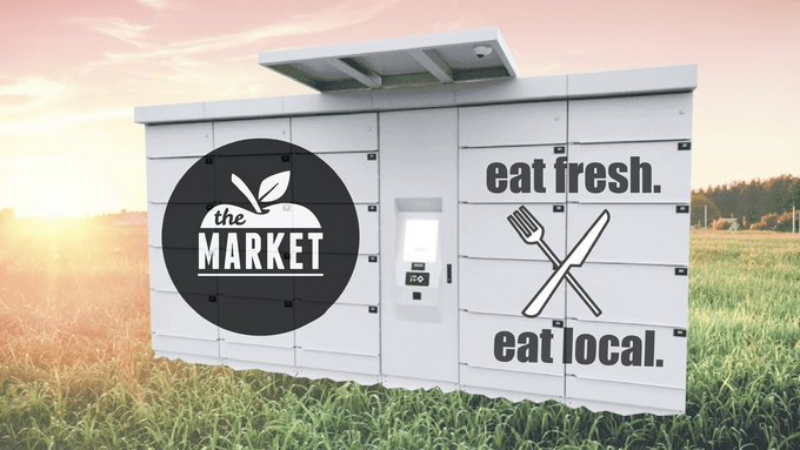 The Bonney Lake Food Bank has a diverse history in leadership, location and programming. But always, the desire to feed hungry neighbors has been its dominant mission. In 2020, with its building deteriorating, the organization moved to a farm in Buckley. There they renovated a pole barn fruit stand into The Market, an innovative and attractive food pantry. This modest, rural operation has become a regional food bank serving households in nine cities in east Pierce County, covering an area of 175 square miles.
Not content to just fill empty bellies, the organization has moved from a traditional food bank to a remarkable food supplier with an emphasis on dignity and selection while supplying fresh, local, organic, and nutritious foods along with other offerings. They seek opportunities through technology to improve their operational efficiency while increasing customer experience. The Market provides a high-end look of a boutique grocery store with low-barrier access. This food pantry offers customers culturally diverse and sustaining foods, curated recipes, and dignity of choice. It operates with self-check-out technology. No questions are asked. No ID is required.
Currently, 15% of their weekly customers opt to have their groceries delivered. This is due to customers being homebound, experiencing transportation barriers, or having work schedules that conflict with The Market's hours. Collaborating with DoorDash has allowed this small and mighty organization to get food delivered. A partnership with eight local farms in east Pierce County has paved the way for the Farm to Fork program, securing a local food supply chain and reducing food waste.
After two years of planning and research, a refrigerated smart locker program went live in August of 2022. These free-standing food lockers are Wi-Fi enabled, on demand, open 24 hours, and refrigerated. Requiring an investment in new technology and an inventory management subscription, the Bonney Lake Food Bank approached the Cheney Foundation. As grant makers, we admire outside the box thinking and innovative processes to solving community problems.  We are gratified that the Food Bank's programs are becoming a model that others are eager to copy. We are confident that the Bonney Lake Food Bank will continue to develop programs and bring about systemic changes needed to feed hungry families in our communities.
To learn more, visit bonneylakefoodbank.org.