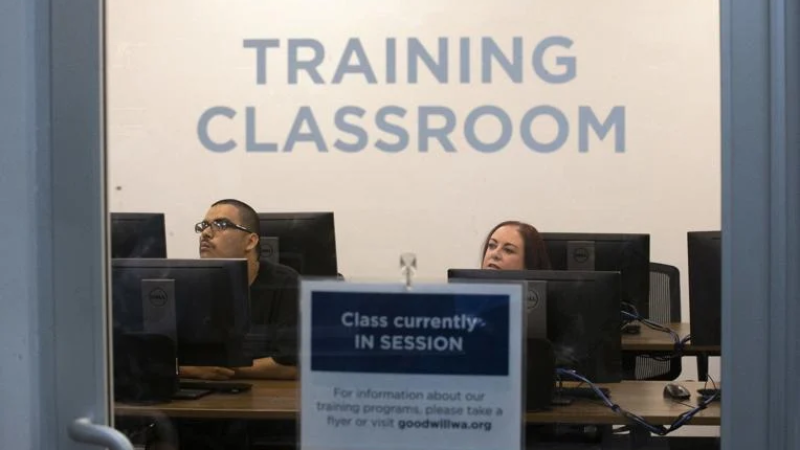 Goodwill of the Olympics & Rainier Region has been serving this area for more than 100 years. While the nature of employment, job skills and work has changed dramatically in that time, Goodwill's mission to help individuals gain employment skills has remained the same.
In 2021, when many of our interactions were still distanced and remote, Goodwill served 6,000 people across the region with free education, job training, and placement programs. It was during this time Goodwill staff recognized their ability to reach more people through online and self-paced education programming. There will always be a need for in-person, classroom, or experience-based learning, but the success of their expanded options and offerings helped lead to Goodwill's new focus.
Today's jobs increasingly require technology familiarity and proficiency. Additionally, lower-skilled, lower-paid jobs are often at the greatest risk of automation. Individuals with technology skills have a greater chance of obtaining work, and a greater chance of that work being secure for the long term. Goodwill recognizes this shift and has created a new focus on technology education and access.
Through Goodwill's refocused program and their Power Up Campaign, Goodwill will give participants access to devices and connectivity, and teach new training programs in skills such as creating digital documents, navigating the internet, coding, systems support and administration. Once individuals gain the necessary skills, Goodwill will be able to match them in apprenticeships to gain on-the-job experience and the appropriate certifications and credentials that bring long-term job security with living wages.
There are two key pathways to access; an informal and self-paced online portal called GCFGlobal, and the more guided Digital Skills Program. The latter includes a participant assessment to understand current skills and career goals, and orientation with a Success Coach, and lessons tailored to each individual's needs. The program is open to anyone 18 or older. If an individual does not have access to an internet connected device, Goodwill has resources to help.
The Ben B. Cheney Foundation is pleased to help Goodwill with their updated mission and renewed focus on digital literacy. To learn more, visit goodwillwa.org/digital-skills.