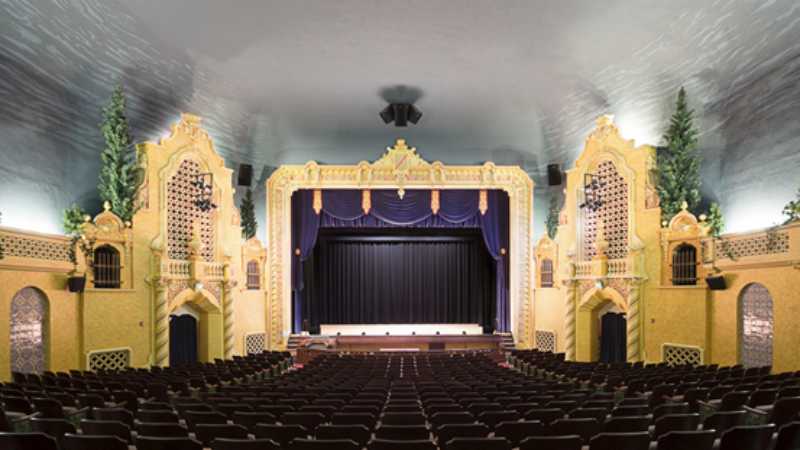 The 990-seat 7th Street Theatre was constructed in 1928 and listed on the National Register of Historic Places in 1987. Located in Hoquiam, Washington, it is one of the last remaining atmospheric theaters in the United States. What is an atmospheric theater you ask?
Atmospheric theaters were a phase in theater design created to evoke the sense of being transported to an outdoor location. They were often patterned on European cities. In those days these were places which most Americans would never have the chance to visit. Mediterranean courtyards or garden settings were common designs, above which soared a starlit sky.
The 7th Street Theatre has been an arts and culture venue in Grays Harbor County for over 90 years. It is the only movie theater in Hoquiam, but it is much more than a movie theater. Its space is also used for school recitals and plays, annual scholarship pageants and dance recitals as well as exhibition space for photo and video presentations. The Theatre serves the community well and is a treasured gem.
Since 2003, numerous projects have been untaken to preserve, repair and restore both the exterior and interior. The auditorium has been completely restored to its original appearance and repairs have been made to the exterior. Updated equipment for stage rigging and heating have been installed. The Theatre has embarked upon its final stages of restoration under Phase II of its campaign: the J Street exterior and the Assyrian bas relief friezes.
The Cheney Foundation has partnered with the 7th Street Theater to assist with important renovations in the past. It was only fitting that we would help with this final phase to preserve a truly important community asset. Learn more about the theater at 7thstreettheatre.com.