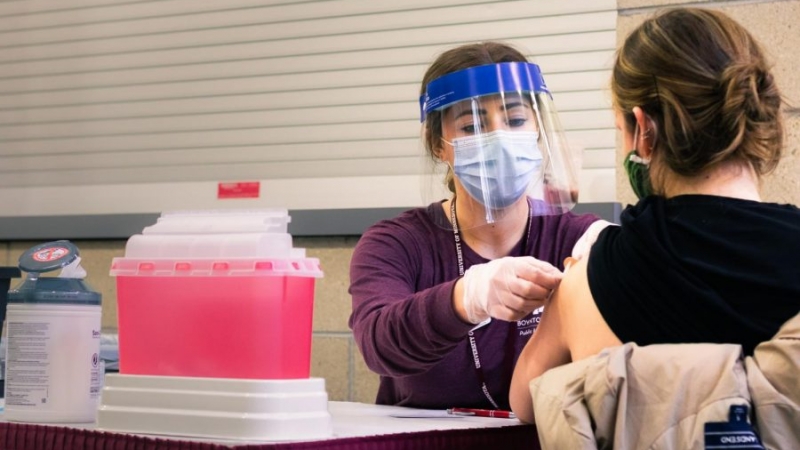 Thanks to the rapid production and distribution of COVID-19 vaccines, it is now possible for everyone who wants a vaccine to get one. However, we know there are many barriers preventing people from accessing the vaccine, so the Cheney Foundation partnered with MultiCare to help promote access and equity in our community.
After the first few months of mass vaccination sites often located in urban parts of our community, it was apparent that some of the significant barriers for individuals included transportation and time of day. This access and equity effort from the MultiCare staff creates a pop-up clinic model to hit the road and bring vaccines to the people. MultiCare will be hosting 72 community-specific pop-up sites to distribute approximately 18,000 doses of the vaccine in areas where transportation and/or time of day scheduling and has been challenging. These clinics will allow for walk-up vaccinations, eliminating the barrier of scheduling a specific appointment at a specific time and place. Meeting individuals where they are, on their schedule, will increase the opportunities for many in our community.
This MultiCare effort will also reduce barriers for home-bound individuals. The early months of mass vaccine clinics also uncovered a portion of the population unable to leave their homes to access community clinics. MultiCare is partnering with Medical Teams International to deploy 56 mobile vaccine clinics to administer another 5,500 doses of the vaccine to individuals in their home. Schedulers will help in this mobile access program, making sure home-bound individuals can set appointments that work for them and that the mobile teams can maximize their routes each day.
These efforts to partner with community-based, cultural, and faith-based organizations as trusted partners for the COVID vaccine will hopefully lay groundwork for other medical outreach efforts going forward. Mobile clinic and in-community medical service delivery pilots also show promise in creative care for those unable to access traditional office-based appointments. What the MultiCare staff learn through this effort about access, information distribution, geography, service delivery, and our community's needs can be helpful in outreach efforts for other, more routine healthcare campaigns down the road.
The Ben B. Cheney Foundation is proud to support MultiCare in this effort to bring more access and equity to our community, not just for the COVID-19 vaccine, but for medical service and prevention efforts to come.
To learn more about these pop-up clinics, visit MultiCare's website.