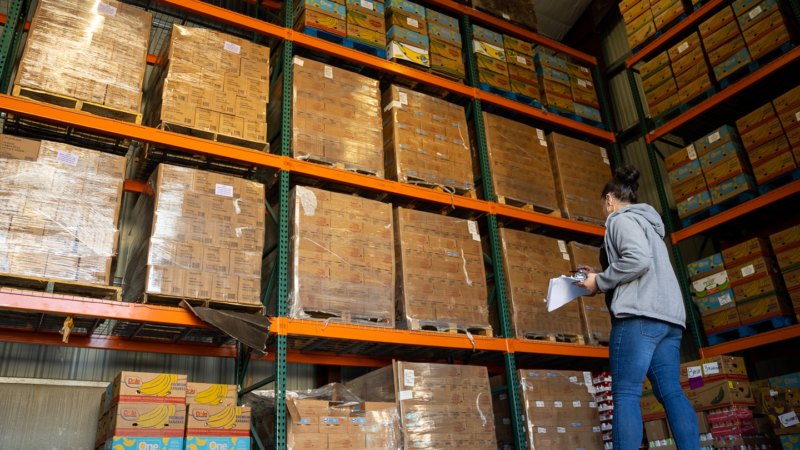 During the Covid pandemic, the fragility of our food security system was exposed. Supply chains broke, volunteers stayed home, and food donations dwindled in areas. It was clear that food security for communities is part of a major emergency response effort, but our system was not prepared for that. Luckily, leaders in Pierce County food security had a plan – a large new warehouse on land Emergency Food Networks' board of directors had foresight to secure years ago.
Emergency Food Network (EFN) began in 1982 when leaders of local food banks recognized the economies of scale that could be achieved in procuring bulk food supplies collectively. Today, Emergency Food Network continues their role of sourcing bulk food and growing organic food on their Mother Earth Farm to serve more than 75 partner food distribution sites in Pierce County. In 2022, EFN distributed 13,000,000 pounds of food to partner programs in our community.
EFN's current 70-year-old warehouse is 17,000 square feet, and staff have done a tremendous job working within those confines to bring in, store, move around, and distribute pallets of food. But the space is small while the demand is growing, making this work dangerous and inefficient. Staff spend too much time moving and shifting pallets of food when time may be better spent doing other things. Additionally, all that unnecessary movement creates unnecessary safety risks.
This situation was exacerbated during the emergency response of the Covid pandemic. When supply chains broke, it became necessary for EFN to store far more food for much longer periods of time. Government food supplies came in gigantic shipments less frequently, and in the rare moments particular food items were available for purchase, it was necessary to buy as much as possible and hang on to it. EFN's warehouse was maxed, and additional warehouse space was cost-prohibitive to rent. At one point, food was kept in shipping containers just to get by.
EFN's board had the wisdom years ago to purchase land across from their administration building and existing warehouse. This project will build a new 20,000 square foot warehouse on that land, with all the modern warehouse and distribution efficiencies. The new warehouse will serve as primary storage for EFN while the existing warehouse will maintain a 30-day supply of food and allow the order-bundling space for distribution. Once complete, the new warehouse will offer increased storage space, increased efficiency, enhanced safety for staff, and serve as a safeguard for future community-wide emergency services.
The Ben B. Cheney Foundation is proud to partner with Emergency Food Network to support their Building for the Future campaign. To learn more about the campaign, visit efoodnet.org.